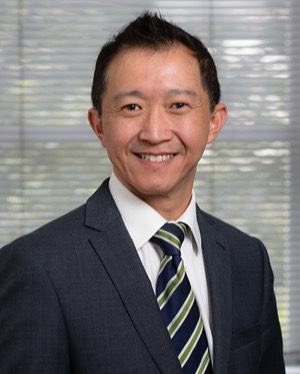 Dr Donald Kuah is an experienced Sports and Exercise Physician specialist and one of the founding practitioners at Sydney Sports Medicine Centre in Olympic Park and Sydney Sportsmed Specialists in the CBD. Dr Kuah was the NSW Institute of Sport Medical Director from 2000 to 2012, being responsible for the state's top 700 elite athletes and has now taken on the role of Medical Consultant to NSWIS since stepping down. He was the Chief Medical Officer to the Wests Tigers NRL team (2003-2013), and Consultant Sports Physician to AFL team GWS (2010-12). He has previously been team doctor to the Sydney Kings basketball team (2000-2002). He was recently appointed as one of three members of the NRL Medical and Player Welfare and Safety Group in February 2015.
Dr Kuah has had extensive experience with elite national teams. He has been involved with the Australian and NSW weightlifting teams, and has been the Medical Officer to the Australian men's hockey team (1997-2008). He was part of the Australian medical team at the 1998 Commonwealth Games in Kuala Lumpur, and the Olympic Games in Athens 2004 and Beijing 2008. At the Sydney 2000 Olympic and Paralympic Games, he was appointed the Clinical Director to the Village Polyclinic and worked full-time for SOCOG for a period of four months. He was also the Deputy Medical Director for the Australian Olympic team for the 2012 London Olympics.
For his services to sports medicine, the Commonwealth awarded the year 2000 Sports Medal to Dr Kuah.
Dr Kuah has a keen interest in biomechanics and its relation to injuries, rehabilitation and return to sport and/or work. He has particular expertise in shoulder, knee as well as foot and ankle injuries. He also has interest and expertise in tendon pathology and osteoarthritis, particularly with regards to regenerative medicine such as the use of platelet rich plasma and stem cell therapy. He has current ethics approved research projects in these areas. He has previously worked extensively at the Perisher Blue Medical Centre and is on the Medical Advisory Panel for the Australian Ski Patrol Association. He continues to play golf, competitive soccer and snow ski and has special interest in these sports.
Dr Kuah has been a chapter author for two internationally published sports medicine textbooks as well as various research and educational articles on sports medicine. He is heavily involved in teaching at all levels including sports trainers, physiotherapists, GPs and other sports physician registrars. He has been the State Training Coordinator in NSW for the Australasian College of Sports Physicians (2004-2009).
Dr Kuah's involvement at Sydney Sportsmed Specialists gives a great opportunity for the general public to avail themselves of his expertise in injury management and general sports medicine. Please note that Dr Kuah has focused on his interest areas and subspecialties and will no longer be taking new patients with spinal problems.