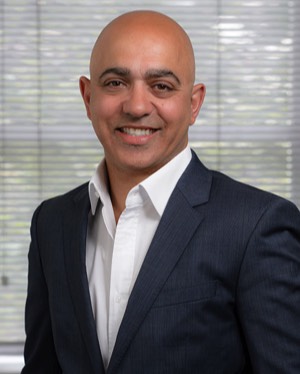 Dr Ameer Ibrahim has a particular interest in non-surgical treatments for Tendinopathies, Osteoarthritis and sporting injuries. He has extensive experience in stem cell research, Platelet Rich Plasma (PRP) and ultrasound guided injections.
Dr Ibrahim is a Sports and Exercise Physician who graduated from the UNSW in 1994. He has had over 15 years of sports medicine experience dealing with professional and elite athletes and teams across a number of different sports. Dr Ibrahim is a co-founder of Sydney Sportsmed Specialists and Sydney Sports Medicine Centre at Olympic Park.
He has held posts with the Australian Socceroos, Olyroos and junior Australian soccer teams and is currently the doctor for Sydney FC in the A-League. He also travelled as team doctor with the Australian Cricket Team to Sri Lanka and was involved in Australia's T20 and One Day International matches. He also covered the Gold medal game at the 2000 Sydney Olympics. He has been involved in the medical team of the Sydney Roosters Rugby league club for over 10 years. He is currently a FIFA sports medicine instructor for the Asian Football Confederation with involvement in the 2006 World Cup in Germany, 2010 World Cup in South Africa and 2014 world cup in Brazil.
Dr Ibrahim completed his Part II Fellowship examinations for the ACSP in 2004 which included 4 years of full time training in sports medicine. He is also a Fellow of the Faculty of Sport and Exercise Medicine (Ireland) and a Fellow of the Faculty of Sports and Exercise Medicine (UK). Dr Ibrahim has published research into
hip and groin injuries in professional soccer players
.
Dr Ibrahim's keen interest in injury prevention, injury treatment and rehabilitation allows him to see patients from school aged children to elite athletes. He sees a wide variety of Workcover injuries and 2nd opinions for insurance companies and legal firms.
Personal Assistant
Alyssa Squadrito -
temp@sportsdoc.com.au